In accordance with Class rules all vessels undergo periodical surveys of hull constructions (annual, intermediate, special) with the purpose of ascertainment of technical condition of hull. The survey includes the damage detection of amount of wear, deformation and other defects of hull constructions. Upon comparison of results and class requirements the conclusion if the repairs are required is made.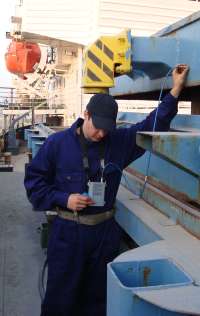 Our specialists carry out the defect detection of hull constructions, thickness measurements and develop repairs recommendations.
Our company is certified by the Russian Maritime Register of Shipping, Bureau Veritas, Lloyd's Register and Russian River Register and issued with the recognition certificate.
Our staff is qualified in accordance with international standards for the measurement on board during passage and in ports.
The measurements of residual thicknesses are performed using the ultrasonic method. The method is based on the electro-magnetic acoustic emittance and receipt of ultrasonic waves. Calculation of time and speed of passage of ultrasonic signals through the material allows the precise ascertainment of thickness of the object without damaging the object itself.
The measurements are taken using ultrasonic equipment manufactured by the UK-based «Cygnus Instruments Ltd», duly certified by the government. The principle of operation of the equipment involves the measurement of time interval between the two consecutive echo signals reflected from the inside surface of the material. The interface signal shows the thickness of the coating therefore the displayed result shows the thickness of the material without the coating. The method allows the measurement of thickness without removal of the paint from the surface of the material.
The measurement and defect detection during the pre-repair period allows evaluation of the volume of steel to be replaced thus saving repair time and customer's money.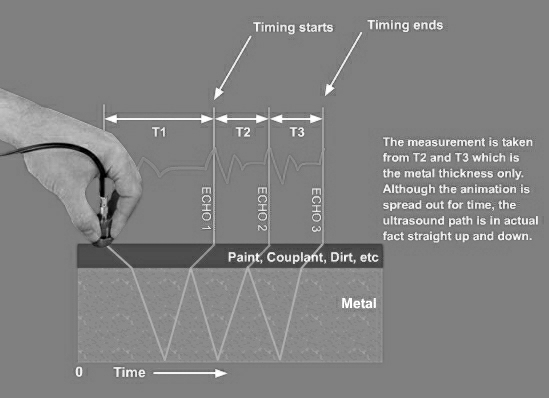 Our services: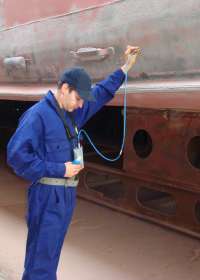 Stages of operation: